Goa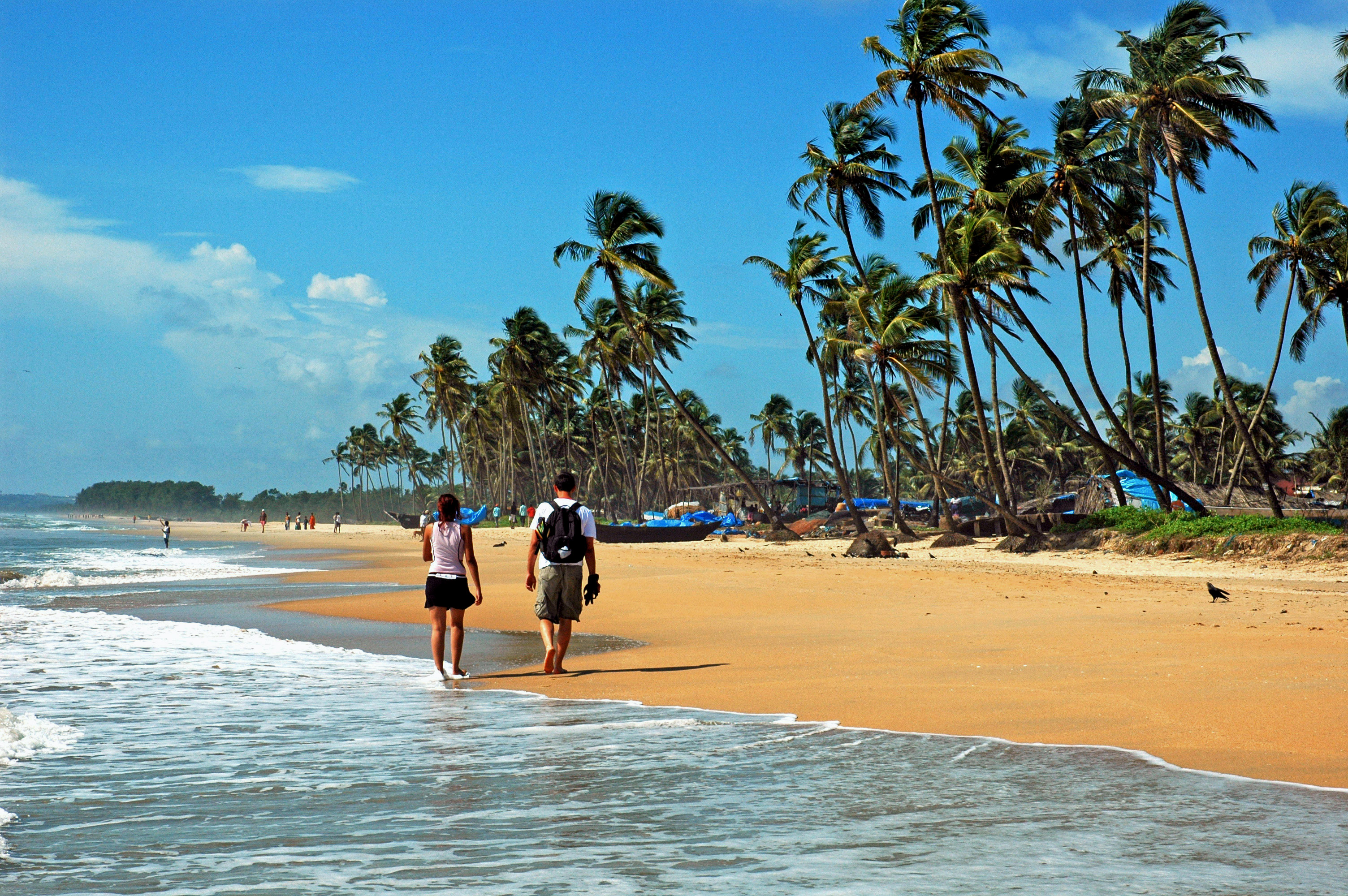 Main article: Tourism in Goa
Goa is one of the most famous tourist destinations in India. A former colony of Portugal, Goa is famous for its excellent beaches, Portuguese churches, Hindu temples, and wildlife sanctuaries. The Basilica of Bom Jesus, Mangueshi Temple,Dudhsagar Falls, and Shantadurga are famous attractions in Goa. Recently a Wax Museum (Wax World) has also opened in Old Goa housing a number of wax personalities of Indian history, culture and heritage.
The Goa Carnival is a world famous event, with colourful masks and floats, drums and reverberating music, and dance performances.
2.Chapora beach

Chapora Beach
 is a coastal village at 

Chapora River

 estuary lying alongside a beach stretch in North Goa that is around 10 km. from 

Mapusa

, a City in Northern 

Goa

. It is close to 

Chapora Fort

, an old Portuguese fort. Chapora is also close to a 

trawler-fishingjetty

. Chapora is home to many cheapest travel accommodation houses found in entire Northern Goa. There is a famous Ganesh fruit juice center in Chapora selling organic juices and gathering people from around.
 3.Basilica of Bom Jesus
The Basilica of Bom Jesus or Borea Jezuchi Bajilika (Portuguese: Basílica do Bom Jesus) is located in Goa, India, and is a UNESCO World Heritage Site. The basilica holds the mortal remains of St. Francis Xavier. The church is located in Old Goa, which was the capital of Goa in the early days of Portuguese rule.
'Bom Jesus' (literally, 'Good (or Holy) Jesus') is the name used for the Ecce Homo in the countries of Portuguese colonization. The Jesuit church is India's first minor basilica, and is considered to be one of the best examples of baroque architecture in India.
4. Salim Ali Bird Sanctuary
The Salim Ali Bird Sanctuary is a bird sanctuary located on western tip of the Island of Chorao along the riverMandovi, Goa, in India. The sanctuary is named after Salim Ali, the eminent Indian ornithologist. Away from the beaches of Goa this is truly a paradise for nature lovers and bird watchers where you can see a variety of species of birds and plants.
From Panaji, one can take a cab, auto or bus till the Ribandar ferry dock and take a ferry across the Mandovi River to the island. The Sanctuary is located very close to the ferry dock and identified with a signboard.he entry ticket for the sanctuary is Rs 50 per Adult and for camera another Rs 50 is charged. The charges apply only for a km of walkway into the mangrove forest and ends up in a dock where you can watch some birds crossing. There is a boat facility to take around the sanctuary and it is charged Rs 900 for 12 persons or Rs 75 per head. If you want to take the boat for yourself you have to pay the total of Rs 900 for a round trip for one hour.