GANESHA
Ganesha , also known as Ganapati and Vinayaka, is one of the best-known and most worshipped deities in the Hindu pantheon His image is found throughout India Hindu sectsworship him regardless of affiliations. Devotion to Ganesha is widely diffused and extends to Jains, Buddhists, and beyond India.
Although he is known by many attributes, Ganesha's elephant head makes him easy to identify. Ganesha is widely revered as the remover of obstacles, the patron of arts and sciences and the deva of intellect and wisdom. As the god of beginnings, he is honoured at the start of rituals and ceremonies. Ganesha is also invoked as patron of letters and learning during writing sessions. Several texts relate mythological anecdotes associated with his birth and exploits and explain his distinct iconography.
Ganesha emerged as a distinct deity in the 4th and 5th centuries CE, during the Gupta Period, although he inherited traits from Vedic and pre-Vedic precursors. He was formally included among the five primary deities of Smartism (a Hindu denomination) in the 9th century. A sect of devotees called the Ganapatya arose, who identified Ganesha as the supreme deity. The principal scriptures dedicated to Ganesha are the Ganesha Purana, the Mudgala Purana, and the Ganapati Atharvashirsa.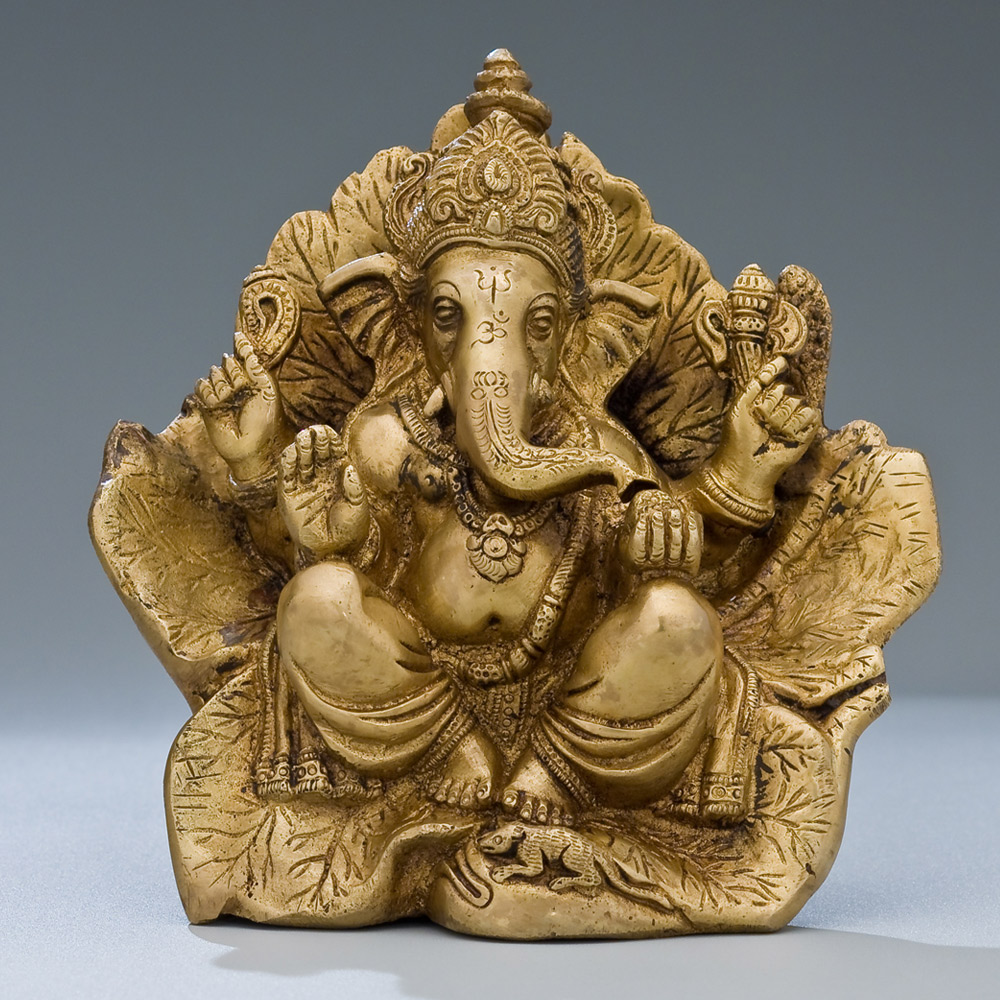 India
Andhra Pradesh
Kanipakam, Chittoor Distt 
Kanipakam Vinayaka Temple or Sri Varasidhi Vinayaka Swamy Temple is a Hindu temple of Ganesha. It is located in Kanipakam in Chittoor, Andhra Pradesh, India.This historic temple is in Kanipaakam in Irala Mandal, Chittoor District. It is about 11 km from Chittoor town.
The swayambhu idol of Kanipakam known as the up-holder of truth. Disputes are solved between people is resolved by taking a 'special oath'. The people in the dispute take a holy dip in the temple tank and swear before the lord. It is taken as gospel truth.
There are instances when the person who committed that sin voluntarily agrees as soon as he had the dip and much before entering the temple itself. It seems the Lord lawns invisibly on the sinner and makes him repent and feel guilty for his sinful deeds.
                                                          Biccavolu Maha Ganapathi
Sri Maha Ganapathi Temple, Sapthagiri Colony, Vedayapalem, Nellore, Andhra Pradesh, India – 524004
Sri Varasiddhi Vinayaka Temple, Secunderabad
Sri Sakthi Ganapathi Devalayam, Kothi, Hyderabad
Sakshi Ganapati Temple at Srisailam Temple complex
Dodda Ganapati at Lepakshi Temple complex
Lakshmi Ganapati Temple at Road No:8, S V Nagar, Nagaram, Hyderabad-500083
Goa
Khandoba temple

,

Khandepar ,Goa,India
 Bandiwade-ponda: Bandiwade, Ponda, Goa, India
Karnataka 
Sri idagunji maha ganapathi, Honnavara, karnataka, India
Punchamukhi Ganesha Temple
Banaswadi Main Rd, Subbannaiah Palya, Banasawad

Shree Maha Ganapathi Temple, Lakkasandra, Bangalore, Karnataka
GDP Temples, Shimoga, Karnataka, India
Ganapati Temple, Pernankila, Udupi District Karnataka, India
Anegudde Sri Vinayaka Temple, Anegudde, Udupi district, Karnataka, India
Sharavu Mahaganapathy Temple, Mangalore, Karnataka, India
Dodda Ganesha Temple, Basavanagudi (near Bangalore), Karnataka, India
Shri Sunder Vinayak, Pratishthanam (near Bangalore), Karnataka, India
Madhur Mahaganapathi Temple near the town of Kasaragod, in Kasaragod district, Kerala, India
Kerala
Ganapathi Temple in Kottarakkara, Kerala, India
Malliyoor MahaGanapathi Temple, Malliyoor, Kottayam, Kerala, India
Sree MahaGanapathy Temple, Panniyali, Omalloor, Pathanamthitta, Kerala
Maha Ganapathi Temple, Ganapathivattam, Sulthan Batheri, Wayanad, Kerala
Maha Ganapathi Temple, Pampa, Kerala
Iswaramangalam Ganapathi Temple, Kerala
Edappally Ganapathy temple, Kochi, Kerala
Velam Ganapathi temple, Mayyil, Kannur, Kerala
Suryakalady Maha Ganapathi Temple, Nattassery, Kottayam, Kerala
Ganapathi Temple, Pazhavangadi, Thiruvananthapuram, Kerala,
Ganapathi Temple, Vazhappally Mahadevar Temple Complex, Changanassery, Kerala, India
Pazhavangadi Mahaganapathi Temple,Thiruvananthapuram city,Kerala,India.
Puthumana ganapathy Temple, Thuruthi, Changanassery, Kerala, India
Avarma Mahaganapathi Temple (Mangatkottaram), Peruva, Kottayam Dist.
Maharashtra
Dashabhuja Temple in Pune, Maharashtra at Paud road
Maha Ganapati Rajur in Jalna district – One of 21 Ganesh pith in India
Laksh Vinayak Verul (near Ellora caves) Aurangabad – One of 21 Ganesh pith in India
Ashtavinayak, a group of eight Ganesha temples around Pune, Maharashtra, India
Girijatmaja Vinayak Temple, Pune, Maharashtra, India
Siddhivinayak Temple, Mumbai, Maharashtra, India
Siddhivinayak Mahaganapati Temple, Titwala, Maharashtra, India
Chintamani Temple, Pune, Maharashtra, India
Ganapatipule Ganapati Temple, Ganapatipule, district of Ratnagiri, Maharashtra, India
Tekadicha Ganapati Temple, Nagpur, Maharashtra, India
Shri SiddhiVinayak Temple, Prabhadevi (near Mumbai), Maharashtra, India
Mahagnapati Temple, Wai, District of Satara, maharashtra, India
Dagadusheth Halwai Ganapati Temple, Pune
Shree Navshya Ganapati, Nashik, Maharashtra

Tamil Nadu

Sri Maha Ganapathi Temple, Ganapathi Agraharam, Tamil Nadu
Karpaka Vinayakar Temple, Pillayarpatti (near Madurai), Tamil Nadu, India – Where Lord Ganesha is worshiped in his Swayambu Form. He is known as Karpaga Vinayagar.
Rockfort Ucchi Pillayar Temple, Tiruchirappalli, Tamil Nadu, India
Puliakulam Mundhi Vinayakar Temple,Puliakulam,Coimbatore, Tamil Nadu, India. The idol of the Lord Ganapathy in Puliakulam, was Asia's Largest idol.
Eachan Ganapathi Temple, Ganapathi Agraharam, Tamil Nadu
Shri Vijaya Ganapati Temple, Ullagaram (near Chennai) Tamil Nadu, India – Vijaya Ganapati means "The victorious Ganesha". Ullagaram Vijaya Ganapati
Sri Kariya siddi ganapathy, Natham Village,Panchetty Post, Chennai 601204
sri kani Vaangiya Vinayagar(sri vilvanatheeswarar temple), Thiruvalam, vellore dt
.
Shenbakkam Vinayaka Temple, near vellore new flyover, about 5 km from vellore bus stand—A temple worshipped by periyavar of kanchi kama koti peetham—sree sree sree chandra sekharendra saraswathi swamy. Sri Ganesha is in a nirakara swaroopam here. The god is worshiped in his 14 incarnations.

Uttar Pradesh

Shree Ganesh Mandir, Jhansi (U.P.) India Jhansi

Shree Ganesh Mandir, Jhansi

Orissa

Siddha Binayak Pitha, Panchama, near Berhampur city, Ganjam, Orissa, India (600 year old Pitha)
Sri Sri Sri Sidha Binayak Pitha, Berhampur, Ganjam, Orissa, India

Rajasthan

Ranthambore Temple, Sawai Madhopur, Rajasthan, India

Sikkim

Delhi

Shri Subha Siddhi Vinayaka Mandir, Pkt-4, Mayur Vihar I, Delhi-91
Sree Vinayaka Mandir, Sarojini Nagar, New Delhi, India (Siddhi Buddhi Sametha Karpaka Vinayakar)
Karunya Mahaganapathi Temple, Mayur Vihar Phase II, Delhi

Madhya Pradesh
Chhattisgarh
Sri Siddhi Vinayakar Temple, Sector 5, Bhilai
Ekambareswarar

temple is located at the northern part of city (Shiva kanchi) Kanchipuram.
Siddhi Vinayagar is the Presiding Deity and surrounded by Lord Rama, Lord Kalyana Subramanyar,Goddess Durga, Nartana Vinayaka, Lord Dakshinamoorthi, Lord Vishnu, Lord Brahma,Lord Chandikeswara, Navagrahas, Lord Nataraja and Sri Hanuman