Famous Narasimha Temples in India
Narasimha ("man-lion") is the fourth incarnation (Avatar) of Lord Vishnu. He is worshipped in deity form by a significant number of Vaishnava groups throughout India (especially in the South) and is primarily known as the 'Great Protector', being a form of Vishnu who specifically defends and protects his devotees in times of need.
There are 13 other Sannidhis for Sri Narasimha Bhagavan in Tamil Nadu besides , Singaperumal Koil. Number of them are part of 108 Divya desams or are in one of the Divya Desams as a separate sannidhi.
These are:
1. Telliyasingam at Thiruvallikeni*,
2. Thiruvelukkai *,
3. Thirunermalai,*
4. Thiruvali-Thirunagari*,
5. Thiru Nagai*,
6. Kachipuram Varadaraja Temple(Guhai narasimhar)*,
7. Thirukkatigai*,
8. Thirukkoshtiyur*,
9. Tanjayaali Koil*,
10. Sri Rangam (Sudarsana and Narasimhan in One Peetam as referred to By Sri Rangaswamy),*,
11. Kondirajapalayam near Tanjore,
12. Niravaloor made famous by one of the Azhagiya Singars , and
13. Nammakkal near Salem.
Singaperumal Koil is at a distance of 30 miles from Madras City on the Main rail route to Kumbakonam.The icon of Narasimha is hewn out of a huge Rock. Pilgrims, who want to do pradakshinam go around the rock out of which is hewn.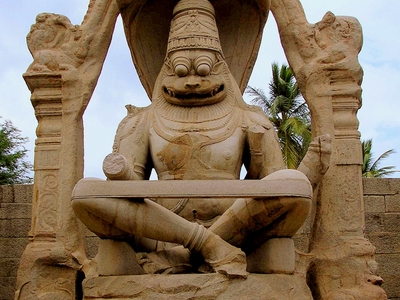 The Moortham at Thiruneer -Malai is Saantha Narasimhan. The Moortham at Triplicane (Telliyasingam celebrated by Thirumangai) has a Mudra or hand gesture , that symbolizes the Lord"s invitation asking the child Prahlada to come near. Narasimha Sannidhi at Thirunagari is in the Western Praakaaram . This stalam is 6 miles from Seerkazhi.

A rare form of Narasimha , Ashta Bhuja Narasimha doing Punishmnet iof the evil (Dushta Nigraham) and protecting the virtuous (Sishta Paripaalanam) with each set of four hands is worshipped here. This Moortham is a marvel of the Silpi.


Legend has it that Brahma got permission from Guhai Narasimhan at Kanchi to start his Vedic Sacrifice, that culminated in the appearance of Hastigiri Varadarajan in the Flames of the Yaga.
Yoga Narasimhan Sannidhi at Sholingar *(Thirukkatigai) is a Divya Desam as well as a prarthanaa sthalam. Thirukkoshtiyoor or Tenkotti* has two moorthams of
Narasimhan in the Northern Praakaram, where He is seen both in the aspect of
Chasing Hiranya and holding him on His lap.


Tanjayali Koil* is on the bank of Vennar and Narasimha is the presiding deity
there. Melattur , the home of Bhagavatha Melam on Narasimha is nearby.
At Sri Rangam* is the Mettu Azhagiya Singar Sannidhi, where Kambar Inaugurated his Ramayana and got the approval of the Lord there. There is also a huge Statue of Narasimha at a shrine close to Sri Rangam station. Kondirajapuram is 3 miles from Tanjore,the seat of former Maratta Kings.Narasimha came to the rescue of a Devotee by name Petha Dasa, who was ridiculed by the King. When the king sent the Devotee to the gallows for a feigned insult, Narasimha is said to have burnt the gallows and saved his Devotee. The king repented and built a shrine to
Yoga Narasimha at Kondirajapaalayam.


The shrine at Niravaloor, where the Sixth Jeeyar of Ahobilas Mutt performeed a Miracle and saved the village from the curse of irate Auvyyar., that condemned the village to eternal drought.
Namakkal Narasimhan has the reputation as a Vara Prasaadi ( Immediate Boon giver) abd His consort, Namagiri Thayaar is famous for her infinite mercy to the devotees.


There are many famous Narasimha temples in Andhra Pradesh in addition to the most celebrated Ahobilam. These are at Ananthavaadi, Mangalagiri, Simhaachalam and Yadagirigutta.


Thiruvaheendrapuram is the Divya Desam, where Swami Desikan spent many years and worshipped Devanatha Perumal and Hembjavalli Thaayaar. It is close to Cuddalore on the same main line.