Russia:-
1. Iskcon Temple, Moscow :-
Address: Address: ул. Куусинена, 19А, Moskva, 125167
Phone: 8 (925) 997-10-03
2. Gurdwara:-
 A gurdwara (Punjabi: ਗੁਰਦੁਆਰਾ, gurduārā or , gurdwārā), meaning the Gateway to the Guru, is the place of worship for Sikhs, the followers of Sikhism.
3. Shiva temple in Moscow:-
Russian Arunachaleshvara Mandir is located in the 1.5 hour drive from Moscow, metro Kurtizanskaya. This is a wonderful power place , where you can get Mahadeva's darshan in the form of fire. It hosts ritual worship of Shiva and Shakti in the tradition of Siddhars. Fire is a manifestation of cosmic energy (Shakti) on Earth. Shakti is the power of the Lord, or cosmic energy. Shakti is the energy aspect of Ishvara or God. Shakti is contained in the Lord. Just as you can not separate the heat from the fire, so you can not separate the Shakti from God, the owner of Shakti. During the havan special offerings (ghee, rice, flowers, fruits …) are offered to fire with the ancient mantras, and material energy is transformed into refined spiritual one. Fire ceremony harmonizes space, balances the atmosphere and biomagnetic fields. Worshipping Fire, we learn to concentrate on the Divine in the form of Light.
Tibet:-
1. Kailash Manasarovar Yatra:-
Kailash Mansarovar Yatra (KMY) is known for its religious importance, cultural significance and arduous nature. The trek through high altitudes in freezing temperature entails hard labour and courting danger. Inspite of the arduous nature of the yatra, pilgrims have been trudging through the cold desert since time immemorial. The annual pilgrimage holds religious importance for Hindus, Jains and Buddhists. It involves trekking at high altitudes of up to 19,500 feet, under inhospitable conditions, including extreme cold and rugged terrain. It may prove hazardous for those who are not physically and medically fit. Indian Mountaineering Foundation (IMF) has recognised KMY as a trekking expedition and it may involve high risk to person or property.
Religious significance
Hindus regard Mt. Kailash as the earthly manifestation of Mt. Meru, the spiritual centre of the universe. On Mt. Meru is situated Svarga or heaven, according to Hindu mythology. Whoever visits the place is cleaned of his sins. Visiting the Manasarovar Lake is also a part of the pilgrimage. Mansarovar Lake, located at an altitude of 14,950 ft (4,558 m) is said to be the highest freshwater lake in the world.
Pilgrims (yatris) taking a ritual bath in the lake are assured of reaching Lord Brahma's paradise and a drink of its holy water cleaning the sins of a hundred lifetimes. A pilgrimage to Mt Kailash involves circumambulating the holy mountain and also the Manasarovar Lake. Hindus travel clockwise around the mountain to cover the 52km circuit. Likewise, circumambulating Manasarovar Lake is also an important ritual. The circuit is a little over 100 km and takes 4-5 days to complete.
KMY 2012
KMY is organized by Ministry of External Affairs (MEA) annually. The Yatra 2012 is planned to be arranged from May 29 to Sep 26 in 16 batches. Each batch will comprise of 60 yatris. The duration of the Yatra proper for each batch will be 27 days. In addition, yatris will have to spend 3-4 days in Delhi for Chinese visa, medical examinations, etc. Government of Delhi will provide accommodation for the stay of yatris in Delhi. March 5 is the last date to file an online application. March 12 is the last date to submit printout of an online or printable application.
If in case, you plan to embark on the pilgrimage with your spouse, do take effort to mention that in your application. Spouses will be automatically selected (provided he/she has also submitted application for the Yatra) subject to clearing the medical test
Selection Process
Given the arduous nature of the Yatra, only those who are physically fit should apply. An applicant should not suffer from medical conditions such as high blood pressure, diabetes, asthma, heart disease, epilepsy, etc. Yatris will be selected by MEA through a computerised selection process.
Selected persons will be informed about their inclusion in a particular batch 3-4 weeks before their scheduled departure. Selected yatris are required to assemble in New Delhi 3-4 days before the commencement of the yatra.
Yatris can qualify for the yatra only after passing two sets of medical tests. Yatris will have to undergo another medical test to ascertain reactions to altitude trekking. It will be done at Gunji after five days of the Yatra when the yatris have scaled about 3500 metres. Yatri found medically unfit at Gunji will not be permitted to continue the Yatra.
Indemnity Bond and Declaration
Selected yatris are also required to sign an indemnity bond to the effect that they undertake the Yatra at their own risk. Yatris also have to provide an undertaking for evacuation by helicopter in case of emergency. In addition, to the indemnity bond and the declaration, Yatris will also have to sign a consent form authorizing cremation of mortal remains on Chinese side in case of death there. Yatris also have to take care that their passport is valid for at least six months as on 1 September 1, 2012.
Cost
KMY 2012 is expected to cost Rs 100300 which includes the charges to be paid to KMVN, Chinese visa fee, charges for medical tests at Delhi Heart and Lung Institute, money payable to Chinese side for lodging for 12 nights, meals and transportation, entry tickets for Kailash, Manasarovar and Kelja Temple and hiring of pony, porter and horses in India and China. The cost of the yatra could increase by Rs 2500 in case a yatri has to undergo second medical test at Delhi.
Weather
Tibet is a dry and cold country. Add to that the weather conditions can change rapidly and it is advisable yatris remain prepared for the worst. During June, July, August till September, days are pleasant and quite warm with temperature hovering between 15 and 20 degree Celsius. Afternoon can get windy. Morning and evening will be chilly and mercury could hover between minus 2 to 0 degree Celsius.
It is unlikely problems other than shortness of breath and less energy will be caused because of altitude. However, altitude sickness is unpredictable.
Fitness of Yatris
Yatris need to be in good shape and health to perform the pilgrimage. The Yatris should have a body mass index (BMI) of 27 or less to get selected for the yatra.  Almost all tourists who travel to Tibet experience altitude sickness. Its effect varies from person to person. Some may have a strong effect and others may a have moderate effect. The effects of Altitude Sickness are less on those who are physically fit. There is a lot of walking in this yatra and one has to climb mountains at certain places.
How to prepare
If you plan to embark on the pilgrimage to Mt. Kailash and Manasarovar, start preparing for the yatra months in advance. A good 30 minute walk, jogging daily, stretching and regular exercise should be practiced. Though porters will carry bulk of the equipment, Yatris will have to perform the pilgrimage carrying a backpack stuffed with essentials like water, additional clothing and medicines.
High altitude trekking requires cardiovascular endurance, strength endurance and hiking-specific training.
Cardiovascular conditioning: Running, walking on an inclined treadmill, etc should be practiced. Biking, rowing and swimming are cardiovascular options but emphasis should be given to spinal-loading cardiovascular exercises like running, walking on an inclined treadmill, walking up and down hills.
Strength conditioning: Training with free weights, bands, a backpack, bodyweight exercises, or gym machines will help build overall strength. Developing strength in upper back and shoulders will help carry backpack and using trekking poles effectively.
Training primarily with free weights will give trekking-specific strength that will help in the mountains.
Mountaineering conditioning: Hike steep outdoor trails, gradually increasing backpack weight. Practice carrying water bottles in backpack.
Clothing
Climate is very fickle in the high Himalayas. Yatris will have to remain prepared to deal with both extremes of climate during the pilgrimage. They will have to encounter hot sun when trekking through lower foothills to freezing temperatures at night while camping in high valleys.
Yatris will have to wear several layers of clothes for protection from the near freezing temperatures. Yatris often wear multiple sweaters, several T-shirts and pants, besides thermal jackets, scarfs, several pairs of socks while performing the parikrama. Rain coats, hat and monkey cap are also required for the yatra.
First Aid
Though both Indian and Chinese authorities provide medical help, it is advisable Yatris carry a first aid kit. Medicines to deal with fever, body and joint pains, cold, cough, sore throat, headache, acidity, stomach cramps, vomiting, dysentery, loose motion, constipation, diarrhea, swelling, muscle pulls, acidity loose motion, indigestion constipations and sore eyes should be stocked.
Altitude Sickness
Discomfort, uneasiness, breathlessness, poor sleeping patterns or limited capacity for physical exertion are some of the main symptoms of altitude sickness. It is caused by acute exposure to low partial pressure of oxygen at high altitude and commonly occurs above 2,400 metres (8,000 feet).
Dehydration due to the higher rate of water vapor lost from the lungs at higher altitudes may contribute to the symptoms of altitude sickness. Acute mountain sickness can progress to high altitude pulmonary edema (HAPE) or high altitude cerebral edema (HACE), which are potentially fatal.
Tips to prevent mountain sickness:
•    Drinking plenty of water is a must as it will prevent dehydration.
•    Eat light food rich in carbohydrates.
•    When tired, do not push yourself to climb further and take breaks in between.
•    Avoid alcohol and smoking during travel to avoid dehydration.
•    Ascending slowly is the best way to avoid altitude sickness and avoid strenuous activity.
Ganesha Temples Outside India:-
Sri Lanka
Canada
United Kingdom
United States
Malaysia
 Arulmigu Sri Raja Kalliaman Temple in Johor Baru, Malasia 

Constructed in 1922, this is one of the oldest temples located in Johor Baru.

The land on which the temple stands was bequeathed to the Indians by the Sultan of Johore.

Initially it resembled only a hut but over the years it has grown to become a grand one.

The most unique aspect of this temple is its creative, intricate and neat glass work.

As for the sanctum that houses the deity of Lord Shiva, over 3, 00,000 Rudraksha beads have been pasted onto the wall.
Singapore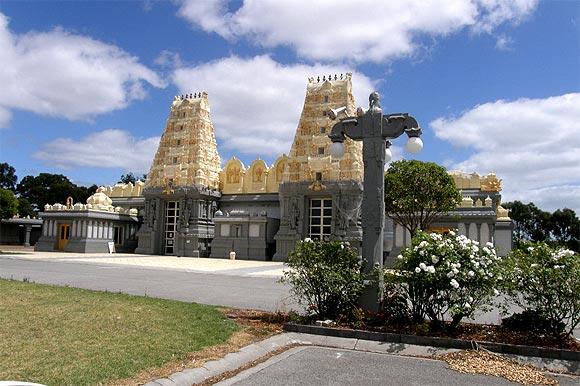 In 1984, 14 acres of land at Carrum Downs was purchased for $72,300.
This land was chosen as per the shastras which say that in order to build a Shiva temple it must be a virgin land.
The first puja was performed in early 1986 following which the construction of the two primary shrines dedicated to Lord Shiva and Vishnu began in 1987.
Since then, after years of planning by the Hindu Society of Victoria and the hard work of a team of skilled craftsmen from India, the Shiva Vishnu Temple at Carrum Downs was opened to devotees in 1994.
For the opening ten priests from Kanchipuram and Sri Lanka were called to perform pujas.
This temple's architecture is the combination of Hindu and Australian traditions.
Very recently in 2012 its Cultural Centre was also completed.
Within the temple around 32 deities are worshipped based on elaborate rituals and Indian festivals like Holi and Diwali is also celebrated with a lot of grandeur.
The temple also helps in the development of the youth through its well maintained library and spiritual classes.
Bangladesh
Dhakeshwari National Temple a Hindu temple inDhaka, Bangladesh. It is state-owned, giving it the distinction of being Bangladesh's 'National Temple'. The name "Dhakeshwari" means "Goddess of Dhaka". Since the destruction of Rama Kali Mandir in 1971 by the Pakistan Army during the Bangladesh Liberation War, the Dhakeshwari Temple has assumed status as the most important Hindu place of worship in Bangladesh.
Chandranath Temple
Chandranath Temple , located on top of the Chandranath hill, is a famous Shakti Peeth located near Sitakunda in Bangladesh where, as per Hindu sacred texts, the right arm of Goddess Sati fell. Sitakunda Chandranath Temple is a holy place of pilgrimage.
Indonesia
Prambanan is the largest and most beautiful Hindu temple complex in Indonesia. Located about 18 km east of Yogyakarta, it is somewhat overshadowed by the even more awe-inspiring Borobudur situated just next door. The two sites are quite different in style though, with Prambanan being a collection of tall and pointed Hindu temples, instead of the single large Buddhist stupa of Borobudur.
Prambanan has three main temples dedicated to Vishnu, Brahma, and Shiva and was built around 850 AD by the Mataram Kingdom, rulers of central Java.
Sri Mariamman Temple
Sri Mariamman Temple is Medan's oldest Hindu Temple. This temple built in 1881 for worship GoddessMariamman. The temple is situated in the area known as Kampung Madras or Medan's Little India. This temple stanning of 3 God, each God Ganesha, Murugan, and Goddess Mariamman. The Gate decorated by gopuram, namely storey tower which can usually be found at the gate of the Hindus temples in South India or some sort of gate. This temple always be meeting point by worshippers on Thaipusam and Deevapali festival.Which is situated in Indonesia.
Sri Lanka
Ariyalai Sithivinayakar Temple or Sithivinayakar Kovil is an ancient temple located about 100 metres (330 ft) west of A9 Road, around 5 kilometres (3.1 mi) fromJaffna Town. This was rehabilitated by Advocate Arulampalam circa 1918. This temple was visited by Mahama Gandi, Yogar Swami, Kunrakudi Adakal.
This temple land are being used as Sri Parvadhi Vidyasalai (School), Market, Agrarian Centre, Sidda Medicine centre, Now defunct Multipurpose Cooperative Society, Handloom center and Preschool.